CIMARRONE
Cimarrone Golf and Country Club
Construction in Cimarrone Golf and Country Club started 1995, and was just recently built out in
2007. Not only is Cimarrone the oldest golf course community in Northwest St. Johns county, but it
is also the only gated golf course community in that area. Cimarrone Golf & Country Club is located
in the CR 210 corridor, directly across from South Hampton. Cimarrone's golf course is a relatively
short, par 72 course, at 6891 yards. Designed by renowned golf course architect, David Postlethwait,
Cimarrone's manicured course conditions and challenging design provides a fun, player-friendly
experience for golfers of all abilities. Beginners will enjoy Cimarrone's well-defined fairways and
magnificent greens. In addition, it is a private course, not public or semi-private like the other two
golf course communities in the CR 210 corridor. Cimarrone also features a tennis club with
professional staff and clay tennis courts, a large playground, a pool and a fitness center for residents
and guests to enjoy.

Cimarrone Country Club Homes
There is likely no other golf course community in Northwest St. Johns county with as much diversity
in homes, due to the fact that it was built out over a longer period of time. Home prices in Cimarrone
are about the same as the other two golf course communities in the area, with home prices starting in
the $100's ranging up to several hundred thousand for larger homes. Cordele builders was the final
builder in the community. When buying or selling a home it is very important to have a Realtor to
represent you. Need a Realtor in Cimarrone St. Johns County, Florida? If buying a home in the
Cimarrone Community, Realtor representation is FREE! If you are selling a home, we offer
extremely aggressive marketing at affordable fees!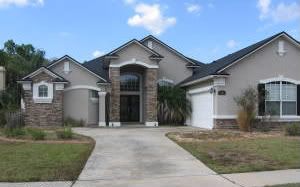 View Other NW St. Johns County Florida Homes and Communities
Cimarrone Jacksonville Florida Homes for Sale