St. Augustine Shores
St. Augustine Shores
The St. Augustine Shores community was planned in the late 1960's by two brothers, Frank and Robert Mackle. 2,020 acres of land was cleared for the development of the community while leaving many native trees to keep the area's character. The Shores has 45 acres dedicated to recreational sites on the Intracoastal Waterway and 58 acres designated for the development of parks. A recreation building boasting of 12,000 square feet is located on the water along with an 180,000 gallon pool, picnic area, kiddie park, volleyball nets, horseshoe pits, and sports field. The Shore's Riverview Facility has a 5,500 square foot ballroom, a card room, a game room, a library, and kitchen facilities. The Facility also has a 500 foot pier extending out into the Intracoastal Waterway with a gazebo. This is the perfect place to watch the sunrise with a good cup of coffee!
The St. Augustine Shores Golf Club is the perfect place for the experienced golfer as well as the amateur. The private 18-hole course is regulation length with three sets of teeboxes for a fun yet challenging game. The Shores also provides over 150 miles of paths for biking or walking as well as 14 lakes. The community contains a variety of places of worship for their residents. W. Douglas Hartley Elementary School is located within the Shores. Gamble Rogers Middle School and Pedro Menendez High School are also located nearby. In addition, there are many private schools in the area such as Matanzas Academy, Memorial Lutheran Chapel School, and many others.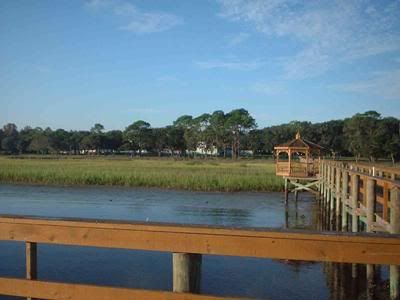 The Shores contains a wide range of homes; from small condominiums to large luxury homes. It is the perfect community for a small starter home, a couple seeking to downsize, or a large family in need of a larger home! Below is the St. Augustine Shores mission statement.
Service Corp Mission Statement
The mission of the St. Augustine Shores Service Corporation is to provide a framework through which property values and architectural aesthetics are maintained and appropriately enhanced through:
Control of architectural standards

Maintained recreational facilities and supported activities

Support of state mandated environmental standards

Ground maintenance and beautification programs

Deed restriction enforcement program

When buying or selling any home, it is important to have a Realtor to represent you and look out for your interests. Need a Realtor in the St. Augustine Shores community? If buying a home in the Shores Community, Realtor representation is FREE!!! If selling a home in the the St. Augustine Shores Community in St. Augustine Florida, we offer home sellers extremely aggressive marketing at affordable fees!
St. Augustine Shores Homes for Sale