The King & The Bear
The King and the Bear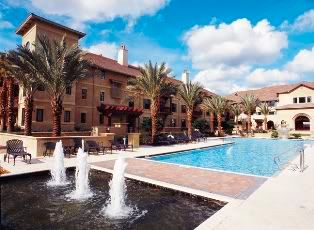 The King and the Bear is a newer community located within World Golf Village in St. Augustine,
Florida. Inside King and Bear are smaller developments including Bearsford, Wildwood, Grovewood,
Lakewood, Oakwood, Tuscanwood, Stonewood, and others. This large community is well known for
its famous golf course, Slammer and Squire. This 18-hole championship resort course was designed by
Bobby Wead with design consultants Sam "The Slammer" Snead and Gene "The Squire" Sarazen and
was the host of Liberty Mutual Legends of Golf, a senior PGA Tour Event and currently hosts an
array of other golf events such as the Handa Cup.

Each of the smaller developments within The King and the Bear offer a wide variety of homes.
Some developments contain smaller homes on smaller lots which also come with a smaller price tag.
These homes are very price efficient yet remain stylish. Other developments consist of homes inspired
by a certain architectural style, such as Tuscanwood. Certain areas of the community offer lots with
more trees while others are very open. Some lots are much larger than others and some contain large,
containing its own garage, and a private elevator for second floor residents. The King and the Bear
offers such a wide variety that any buyer is sure to find what they're looking for.
The King and the Bear is protected by two gated entrances, one off of International Golf Parkway
which is the main gate, and the other off of SR-16. The community has a private clubhouse, an
amenity center, two pools, and tennis courts. The King and the Bear is located in one of the best
school districts within St. Johns County and contains numerous bus stops within the community.

When buying or selling any home, it is important to have a Realtor to represent you and look out for
your interests. Need a Realtor in the King and the Bear in World Golf Village? If buying a
home in the World Golf Village Community, Realtor representation is FREE!!! If selling a home in
the World Golf Village area, we offer home sellers extremely aggressive marketing at affordable fees!

Homes for Sale in The King and the Bear Neighborhood