Anastasia Dunes
Anastasia Dunes- St. Augustine Beach, Florida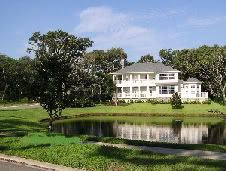 Anastasia Dunes is a gated community located in St. Augustine Beach, Florida. It offers secluded living among nature yet only two blocks from the beach. Anastasia Dunes has 138 home sites with 20 acres of conservation land. This newer community consists of homes built in the 2000's. There are also many vacant lots if you would rather build your own custom home. Some of the developers within the community offer pre-construction packages.
This community features winding roads surrounded by large oak trees and also has lakefront properties. Because Anastasia Dunes strives to preserve the majestic oaks, the lot sizes are much larger than others in St. Augustine Beach. Some of the sites are larger than 10,000 square feet and are separated only by oak trees, natural dunes, sea oats and wetlands which make up 90% of the community.
When buying or selling any home, it is important to have a Realtor to represent you and look out for your interests. Need a Realtor in Anastasia Dunes in St. Augustine Beach, Florida? If buying a home in the Anastasia Dunes Community, Realtor representation is FREE!!! If you are selling a home in the St. Augustine Beach FL area, we offer home sellers extremely aggressive marketing at affordable fees!